AMEE Platforms: Making Data Work For Business
We build technology platforms that make environmental data easily accessible and useful to foster collaboration and innovation.
Contact us to learn how AMEE can help your organisation access and use environmental data more effectively.
Contact Us
Sustainable Business Marketplace
+20M searchable business profiles supporting data driven SRM and CRM.
Explore business and sustainability data on millions of companies to perform due diligence and aid sales & marketing. Users can promote their companies by updating their profile for free. AMEE provides customer relationship and supplier relationship tools for free and, at larger scale, through software tools to help reduce risk, improve engagement, and drive competitive advantage.
Millions of environmental data elements and algorithms to aid and automate measurement.
Access to millions of environmental data elements and algorithms focused on the energy and carbon emissions of materials, processes or activities such as driving a car or a ton of concrete. AMEE Discover is a browser-enabled data catalog directory for consultants, designers, engineers, and researchers while AMEE Connect is a RESTful API for developers integrate data into applications and automate calculations.
Environmental Data Exchange (EDX)
Catalysing collaboration and innovation using environmental data.
AMEE built EDX with the Digital Catapult , a discovery platform to help the search, discovery and use of environmental data, which will unlock the innovation needed to tackle the environmental challenges and opportunities by governments, organisations and SMEs alike.
Open Government Supply Chain
Transparent, automated sustainability reporting across the UK Central Government's supply chain
AMEE built a platform for the UK Government to provide transparency and accountability for sustainability across the central government supply chain. We integrated public spend data combined AMEE business and sustainability data to automate analysis across 17 central government departments covering billions of annual supply chain spend.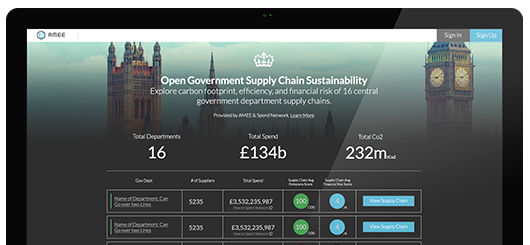 Contact Us To Discuss Your Needs
AMEE can help you build new data platforms to support data management, analysis and collaboration in your organisation or with partners.
Contact Us